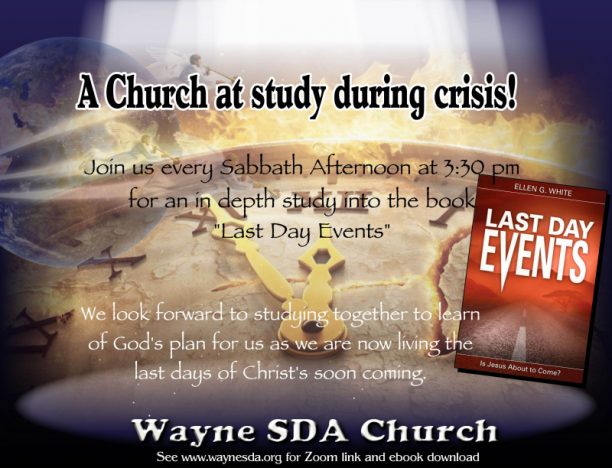 ---
Welcome to the Wayne SDA Church in Wayne, NJ.  We are open for in-person services.  Due to state regulations, seating is very limited.  We ask that if you are a member of another local church, please attend there, or connect to streaming services online. Thank you for your consideration.
Attendees must wear a face covering when entering, walking about, and leaving the building.  Face coverings are optional while seated in the sanctuary, but must be worn during congregational singing. All children's areas and children's sabbath school rooms will be closed, with the exception of the Junior class, which will meet in the Fellowship Hall at 10:00am.
Adult Sabbath School - 10:00 to 10:50 am in the Sanctuary
   Sabbath School will be streamed live from the sanctuary. 

Divine Worship Service - 11:00 am in the Sanctuary
   Join us in the sanctuary, or via the live stream from home.
   Facebook Live: https://www.facebook.com/waynesda
   YouTube Live: https://www.youtube.com/c/WayneSDAOrg
Sabbath Afternoon Study - Every week at 3:30 PM
Zoom Link: https://zoom.us/j/99845944118?pwd=dC9BcDhOeEhjc0pLTXhWdjZYNUlnUT09
Or Dial: 929 436 2866
Meeting ID: 998 4594 4118 / Passcode: 1234
Stay connected with us by email for weekly bulletins and important announcements.  Sign up here.